Frequently Asked Questions
1.1. GENERAL - How to access to the creation tool?
Chers Clients, Nous renouvelons nos systèmes d'impressions pour vous offrir un plus large de choix d'options et améliorer notre qualité de service, pour répondre à toutes vos envies créatives. Durant cette période, le service montissu est provisoirement suspendu. Merci pour votre compréhension.
Comment créer votre tissu personnalisé ?
Il faut tout d'abord cliquer sur le bouton "Commencer à créer" sur la page d'accueil ou bien l'icône en forme de pinceau qui se trouve sur la barre supérieure. Vous pouvez également y accéder par le menu sur le côté droit de la page d'accueil.
Accès à l'outil de création :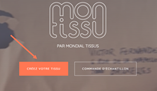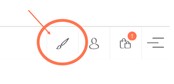 1.2. GENERAL - What can I do in the creation tool?
The creation tool is divided into two parts: left part is for the preview of your textile, right part is for the settings, the placement options and the order information.
Once in there, you will be able to do the following:
Determining the repeat options of the design on the fabric.
Setting up the size of the design on the fabric.
Setting up the length of the fabric
Adding the fabric to your cart and cheking out once you are satisfied with what you see, or creating another custom fabric before doing so. The tax-included price is also displayed, so there is no surprise suring the check-out. Just bear in mind that you may also have to add the delivery costs, which vary depending on your location and the total amount of your order (see FAQ section 2.6. "SHIPPING - How does the shipping work?").
1.3. DESIGN - How to upload a file?
You have a great design that you would like to be printed on a fabric? Awesome! Here's how to do:
1. Go to the creation tool.
2. Once you are in the creation tool, click on the space that says "Click or drop your file here to upload it". It will open the folders on your computer. Go to the right one, select your design, and click on "open". Or if your folder is already opened, you can simply drag and drop your image from the folder to the creation tool, as the sign suggested. :-)
3. You will be asked to confirm that you have all the rights on this design. If you do, check the box, and click on the "upload" button. If you don't, you won't be able to continue and you will need to choose another design which you actually have the rights on, or choose one from our common gallery.
4. Voilà! It's uploaded! Now it's time to play with the settings to create your perfect fabric (see FAQ section 1.2. "GENERAL - What can I do in the creation tool?").
PS: make sure that format of the image you will upload is in .jpg, .gif or .png.
1.4. DESIGN - What kind of image can I upload?
Short answer:
Designs you have the rights on or copyrights-free designs.
Detailed answer:
You can upload anything! …as long as you have the rights on it.
We strongly advise you to upload exclusively designs that you have created yourself in order to avoid any legal issue. If you are not too inspired or if you do not know how to create your own design, remember that the Internet is a fabulous place where you can find amazing copyright-free designs! Just a few reminders:
Some images on the web will require you a permission or a licence in order to print it. To avoid the problem, it is best to look for inspiration on free-stock pictures websites such as Freepik, Pexels, Pixabay, and so on, as the images on those websites are always free to use.
Be aware that some free to use images are okay for personal use, but maybe not for commercial use. It is always better to check first what type of usage you have the right to do with an image you found on the web before uploading it.
If you decide to create your own design based on an existing source, be also careful about the following remarks:
If you create a design that contains or refer to an element that is copyrighted by a third party (e.g. you drew the Disney logo), it may still be considered as a violation of copyrights laws.
If you take an existing design that was not yours and change it a bit, it is still not considered that you own it or have the rights to use it.
If you wish anyway to upload a design that you do not own, we decline all responsibilities as we are only a service provider. You may use the copyrighted design at your own risk. Please remember you may be prosecuted by the copyright's owner at any moment. For more information, do not hesitate to consult also our Terms and Conditions.
1.5. DESIGN - What type of file can I upload?
We accept files in .jpg (or .jpeg), .gif and .png.
IMPORTANT: the colors of the file must be set up in RGB in order to ensure a high fidelity when printed.
1.6. DESIGN - What resolution should my image be?
On Happy Sunday, the lowest resolution we accept is 150 dpi. As long as it doesn't go lower than that, your image will be printed just fine on the fabric!
(More information and advice about resolution to come)
2.1. PROCESS - How to place an order?
1. Create: go to the creation tool and create you custom fabric - if you want to know how to use the tool, check the section 1 of the FAQ "Using the app".
2. Confirm: once you are satisfied with your custom fabric, add it to your cart and proceed to check-out. You will be redirected to your cart where you wil be able to estimate your delivery costs and to use any promotion codes you may have. Once you are done, press "Order now".
3. Check-out: if you are not a member yet, you will need to fill in your account, contact, delivery and billing information. If you are already a membre, you just need to confirm the delivery and billing information. At any moment, you can still unfold the details of you cart by clicking on the "Your cart (x product(s)) ˅".
Done and ready? Make sur to review and accept the terms and conditions, and then click on "Payment".
4. Payment: choose your safe payment method. You can use a credit card or your PayPal account or make a bank transfer. If you choose the last option, your order will be confirmed after reception of your transfer, then.
5. Finalization: click on "Order", and you are good to go! We will process your order and send it to you. Your package will arrive within 2 to 10 business days (unless you live really far, like another continent far). For more information about the shipping conditions, please check the section 2.6. of this FAQ, "SHIPPING - How does the shipping work?".
 
2.2. PROCESS - How can I order a sample?
Of course, it is only natural that you would like to see what fabric looks like before ordering a whole batch of it! That is why you can order conveniently a sample of 22x22 cm to touch and feel the fabric first!
The sample comes with a flat cost of € 4.00. However, if you decide to order later at least 50 cm out of the same fabric, you can deduce those € 4.00 directly from the final price!
How to do that?
1. Go to the page "Order a sample".
2. Choose the design you want on your sample(s) and which fabric you would like a sample for.
3. Add it to your cart.
4. Process to check out (see steps 2 to 5 of the FAQ section 2.1. "PROCESS - How to place an order").
5. It will be mailed to you (for free!) and you will receive it approximately within 2 to 7 business days, depending if you live in Belgium or not.
6. Congrats! Now €4.00 will be automatically deduced from your next order of the same fabric!
2.3. PRICE - How much does it cost?
See the pricing chart here.
2.4. PRICE - Do you offer discounts?
Yes!
Refundable samples: remember also that if you have ordered a sample for €4.00, the same amount will be deduce directly on your next purchase. For more information, check the FAQ section 2.2. "PROCESS - How can I order a sample?".
Classic time-limited promotions: we occasionally make some special offerings and organize some contests to win lovely prizes. Stay tuned!
2.5. PAYMENT - What payment methods can I use?
You can use the most common and safe payment methods for an e-shop website:
Credit cards - MasterCard, Visa,...
2.6. SHIPPING - How does the shipping work?
1. Je vis en France ou en Belgique
Dès validation de votre commande, notre équipe se chargera de sa préparation.En général, cela peut prendre entre 1 à 3 jours ouvrables pour nous assurer que votre commande est parfaite et prête à être envoyée, et 2 autres jours ouvrables pour la livraison. Votre commande devrait donc arriver chez vous en moins d'une semaine.
Combien coûte la livraison ?

Nous appliquons un montant forfaitaire de livraison à domicile de 5.95 € TTC

Qu'est-ce que Happy Delivery ?

Livraison gratuite ! Si vous faites une commande pour un montant supérieur à 80,00€, vous n'avez aucun frais de livraison !

Quand recevrai-je mon paquet ?

Nous nous engageons sur un délai moyen de livraison de moins d'une semaine dès lors que vous avez validé votre commande.
2. Je ne vis pas en France ou en Belgique
Votre zone n'est pas éligible à la livraison, toutefois, nous espérons pouvoir élargir notre zone de livraison dans le futur !
2.7. SHIPPING - Do you work with pick-up locations (Kiala, Colissimo, UPS,...)?
No, we only do direct delivery, in order to make the whole delivery process as smooth as possible.
2.8. SHIPPING - Can I track my shipping status online?
Vous pouvez consulter le statut de votre commande dans votre profil (dans l'onglet "Mes commandes").
Si vous désirez suivre votre paquet en temps-réel sur le site du transporteur, n'hésitez pas à nous laisser un message et nous serons ravis de vous fournir votre numéro de tracking !
2.9. SHIPPING - Can I have an express shipping?
Nous ne proposons pas de livraison express, les colis sont expédiés en Colissimo livraison sous 24h. Néanmoins, si vous avez une requête spéciale à adresser, n'hésitez surtout pas à nous contacter ! Nous ferons notre possible pour convenir d'une solution.
2.10 - CUSTOMER SERVICE - What is your return policy?
Votre satisfaction est notre priorité numéro un. Etant donné que votre tissu personnalisé est un article unique et ne peut pas être retourné dans un inventaire comme d'autres produits classiques, nous ne sommes pas tenus de reprendre votre article ou d'en effectuer le remboursement si vous changez d'avis, conformément à l'article L.221-28 du Code de la consommation, les produits nettement personnalisés sont EXCLUS de ce droit de rétraction.
Cependant, bien que nous ne puissions garantir un remboursement systématique, nous sommes toujours disposés à vous écouter et à vous assister si vous avez un quelconque problème ! Selon les cas, nous sommes là pour trouver des solutions afin de nous assurer que vous obteniez bien le tissu que vous avez commandé.
N'hésitez donc pas à nous contacter si vous avez la moindre question, la moindre plainte (on n'espère que non), ou le moindre commentaire (nous sommes avides de vos avis !).
2.11. CUSTOMER SERVICE - Can I cancel an order?
Oui, uniquement si vous venez tout juste de passer commande ! Contactez-nous par téléphone au 01.70.18.16.00 au plus vite ! Nous pourrons ainsi vérifier l'état de préparation de votre commande. Si votre commande a déjà été imprimée, il ne sera pas possible de l'annuler.
3.1. Is it mandatory to create an account?
Short answer: yes.
Detailed answer: we know, creating an account is not the funniest thing to do ever, but what if we had problem printing your fabric, or your order never arrived, or you want to make a change on your order, or …? Creating an account allows us to offer you a greater and faster customer service. It's our job to prevent any issue to happen, and all we ask in return, is that you sign in, so we can assist you in a much smoother way. And of course, you can be sure there won't be any spam. We hate spams too, as any normal human being.
Besides, when you want to order a new fabric, having an account makes the whole order process way faster and more convenient, since you don't have to re-enter your information! Moreover, you will be able to take full advantage of all the possible ways to have discounts [lien vers la section FAQ 'Orderding' > 'Do you offer discount?'] (because buying a fabric is nice, but buying it for cheaper is sweeter).
Another nice perk of having an account is that you can save your favorite designs [lien vers la section FAQ 'Membership' > 'Where can I find the designs I "liked" while browsing the gallery?'] from the common gallery by liking them, and keep in your account ideas for your next projects.

3.2. Comment accéder à l'espace mon compte ?
Il suffit de cliquer en haut à droite de l'écran pour accéder directement dans votre espace personnel

Vous pourrez ainsi consulter l'historique de vos commandes, les motifs téléchargés, vos informations personnelles et adresses de livraison, …
3.3. Comment modifier mon adresse email ?
Depuis votre espace « Mon Compte », cliquer sur « Gérer mon profil ».
4.1. Aiguilles et fils recommandés
Pour que les finitions de votre projet soient parfaites, il est important de bien choisir la bonne aiguille de machine à coudre ! Chaque matière doit être cousu avec une aiguille de la bonne taille : Plus le tissu est léger, plus il faudra utiliser une aiguille fine pour ne pas casser les fibres et ne pas laisser des trous visibles. A l'inverse, plus le tissu est épais comme le jeans, plus il vaudra mieux choisir une aiguille épaisse pour éviter les risques qu'elle se casse.
La taille d'une aiguille est indiquée par deux numéros : 70/10, 80/12, 90/14…
Le premier correspond à la notation européenne. Les aiguilles sont numérotées de 60 à 110. Il indique le diamètre du corps de l'aiguille exprimé en 100ème de millimètre. Une aiguille de 90 fait 90/100 de millimètres.
Le second indique la taille dans le système américain (sur une échelle arbitraire). Plus ces nombres sont élevés, plus l'aiguille est épaisse :
Satin 70,75
Bambou 60,65
Twill 80,90,100
Lorsque vous devez coudre plus de 2 épaisseurs, augmentez le numéro.
4.2. Que signifie mètre linéaire ?
Un mètre linéaire est une unité de quantité. Elle est utilisée pour déterminer la quantité de tissu que vous commandez. Elle se rapporte à la longueur du tissu en question, la largeur restante fixe. Ainsi par exemple, si vous commandez 1 mètre linéaire de popeline, le tissu que vous recevrez mesurera donc 1,50 mètres de large (sa laize) sur 1 mètre de long, puisque notre popeline est disponible sur base d'une largeur (laize) d'1,50 mètres.
4.3. Quelles encres utilisez-vous ?
Il s'agit d'encres pigmentaires. Nous testons et garantissons la tenue à un lavage 30°, mais leur résistance au lavage reste moindre que des tissus avec impression industrielle (cadre ou rotatif), ou que des tissus fil teint.